'Misfire': MSNBC Airs Fake Graphic Showing Andrew Gillum Winning Florida Vote
Posted On :
---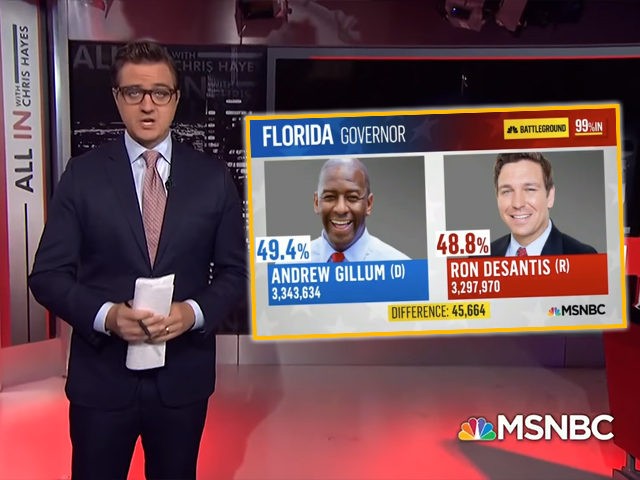 Showing how Democrats cheat and desperately try to influence voters...MSNBC anchor Chris Hayes was left red-faced Monday evening after the cable news network aired a graphic showing Florida Democratic gubernatorial candidate Andrew Gillum beating his Republican rival Ron DeSantis by 45,000 votes.
Why even create this graphic??
Of course, polls for the hotly contested race do not close until, 11-6, Tuesday evening.
"Quick clarification here," Hayes told viewers. "Just want to say, earlier this hour, uh, we showed a graphic of the Florida gubernatorial race. May have caught your eye because our system had inadvertently populated some test numbers.
"Obviously, we do not yet have any vote totals here, the night before the election," the All In host continued. "That was a misfire. Don't worry. I was pretty confused when I saw it up there, to see it there myself."
The bogus graphic, first reported by Deadline, showed DeSantis trailing Gillum by six-tenths of a percentage point with 99 percent of the votes tallied.
A St. Pete Polls survey released Saturday shows Gillum leading DeSantis 49-48 percent, with a two percent margin of error, while The Cook Political Report has labeled the race a "toss-up."
These people are dangerously delusional at this point. When republicans win again, expect their TDS to get even more deranged.
Source: https://www.breitbart.com/the-media/2018/11/06/msnbc-andrew-gillum-fake-graphic-florida-vote-results/